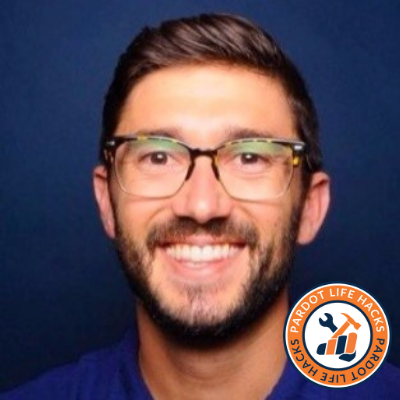 A 3x Salesforce Certified Ohana Member, Awarded B2B MVP SE and Solutions Engineer of the Year, and Lead Solutions Engineer, Enterprise Business at Salesforce, Jeff Stollenwerk, chats about everything from best use cases on Engagement Studio, to leveraging Artificial Intelligence, and new features such as the new Lightning Email Builder.
Takeaways
Jeff Stollenwerk's favorite Pardot Life Hack: The custom object integration. It works great for organizations that use Salesforce objects, such as cases, that want to leverage this data in Pardot.

Engagement Studio is great for activating your best content to give your customers resources that help guide them in their journey.

The new lightning email builder will allow you to send emails on behalf of anyone from the account team. This is great from an ABM perspective.

Pardot scoring and grading is great for sales and marketing alignment. It allows you to rate your prospects based on their engagement and their profile, helping marketing to send over higher quality leads to sales.

Connected Campaigns are the foundation of marketing campaign reporting in Salesforce. If you have not already enabled them, check out the Pardot Life Hacks Connected Campaigns Tactical Series! 

Career Advice: Persistence, never give up.
Useful Links
Shout Outs
Social
#EinsteinLeadScoring

#EngagementStudio

#ConnectedCampaigns

#TrailblazerTalk

#Salesforce

#Pardot

#SalesforceCertified

#PardotLifeHackers

#SalesforceOhana
Ways to Tune In